Spring Inspired Centerpiece Workshops
Saturday, April 6th, 2019

-

Saturday, April 13th, 2019
Dear friend,
Last week, when my son was home sick, we decided to work on a fun spring project together. We chose one of my favorite pieces of décor: a centerpiece.
I love centerpieces.
It's these little touches that give a home comfort and warmth.  Whenever I host a lunch or dinner party, I always make time to make a centerpiece!
Looking back on the ones I've made in the past always brings back so many warm memories of family and friendships.
My son and I had so much fun on this project, it gave me an idea.
I wanted to share some of that same joy and excitement with you. And what better time than now, with spring in the air?!
Mark your calendars because in a couple of weeks, we're going to show you exactly how to create your own gorgeous spring-inspired centerpiece.
Actually, you're going to get WAY more than just a lesson. (I'm probably a little crazy for offering all this, but I'm super excited AND it's my birthday weekend, so why not?!?)
Sign up for one of our upcoming Spring Inspired Centerpiece Workshops on April 6th and 13th and you'll get:
All the supplies you need
Including several styles of decorative eggs,
Multiple options for decorative paper
Vintage ribbons
Decorative flowers
And Amitha Verma paint
Multiple designs to choose from so you can truly make it your own
Professional instruction with hands-on guidance from several Amitha Verma certified teachers
The opportunity to exercise your creativity and make a beautiful work of art for your home
You will learn how to create your own design, and how to put it together with our workshop teachers. And you will leave with a customized and finished centerpiece ready for your home!
Here's the crazy part. You'll get all of this for just $89.99.
And I'm not even done.
I'll also be giving away my new must-have thing when I'm hostessing along with a new brush, so you can do more projects at home. This gift has a $19.99 value – yours FREE just for attending the workshop.
You'll basically be getting the entire workshop PLUS a free gift for a little more than the cost of the bowl. It's such a great value.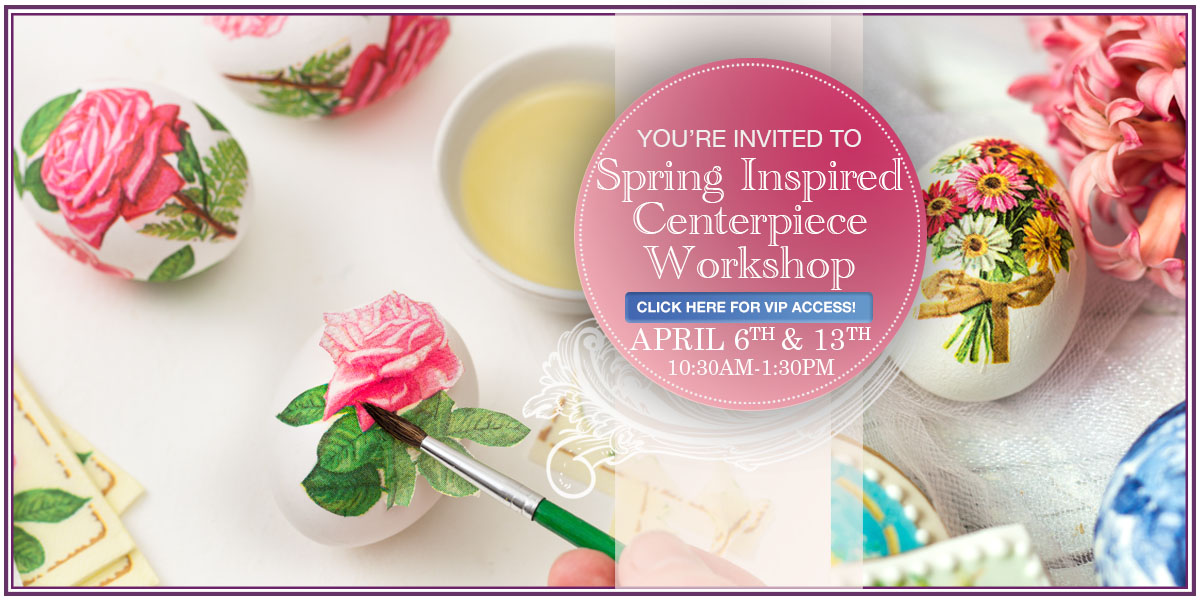 When you're done, you'll have a finished centerpiece that you can proudly display on your dining table or kitchen island. Plus, you'll have connected with other like-minded people and made some new friends in the process.
To make sure everyone gets a chance to attend, we are hosting two workshops:
Saturday April 6th from 10:30am-1:30pm and Saturday April 13th from 10:30am-1:30pm.
We're going to have so much FUN!
The catch? Space is extremely limited. We want to make sure that everyone attending receives the attention they need to create something truly amazing. To do this, we have to keep our workshops classes small.
And as of sending this email, several spots have already been reserved.
If you're interested in taking me up on this incredible offer, don't wait. Sign up today while there's still room.
I hope to see you there!
With love,
Amitha
P.S. These workshops WILL sell out. If you're on the fence and thinking maybe you'll come back and sign up later (like I sometimes do), I strongly recommend signing up now. I'd hate for you to miss out and be disappointed! Grab your spot before they're all gone!
Class Location
1200 Blalock Rd. Suite 350, Houston, TX 77055
Ph:713 – 468 – 3931